Online check-in means checking in on the internet. Have you heard about it? We're sure that from now on you'll always remember to do it before you fly.
Why?
Because if you check in online you'll get your plane tickets wherever you are, and this means that you'll save time at the airport, because you'll avoid having to go to the check-in desks before the flight.
Fast and easy
Most airlines offer this service free of charge and it's so fast you could do it before getting to the end of this post! Just follow these steps: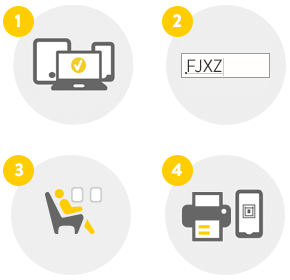 Go to the website or mobile app of the airline you're flying with and look for the Online check-in section.

Enter the details of your booking.

Choose your seat.

And that's it! Download your boarding passes or save them on your mobile.
Remember that bringing your boarding pass on your mobile phone is easier and more environmentally-friendly, and you can use your smartphone for something else other than WhatsApp! ;)
And if you have baggage to check in...
More and more airlines are installing desks that are called Drop-off or Baggage Drops. These desks are exclusively for passengers who have already checked in and all you have to do is go and put a tag on your bags, so you will avoid the queues at the other desks.
It couldn't be easier. From now on all you have to do is go to security and then straight to the plane!
P.S. Don't forget to check when the boarding gate closes, and don't be late!
Have a nice trip!