New routes connecting Paris with Spain, Italy, UK, Denmark, Germany, Norway, Sweden, Ireland, Morocco and Malta, since November 2021.
Since Vueling started to operate in France in 2004, they have been adding new routes to connect France with Spain, and now also with the rest of Europe. As well as Paris, Vueling also fly from another five French airports: Bordeaux, Lyon, Marseille, Nantes and Nice.
This is interesting, not only because new cities are connected with direct flights, but also because there are international connections via Paris-Orly. This means that it's now easier to travel to the US, Mexico, Brazil, Argentina and China, for example. You can book your intercontinental tickets via Vueling Global.
Are you thinking that it's been too long since you visited Paris?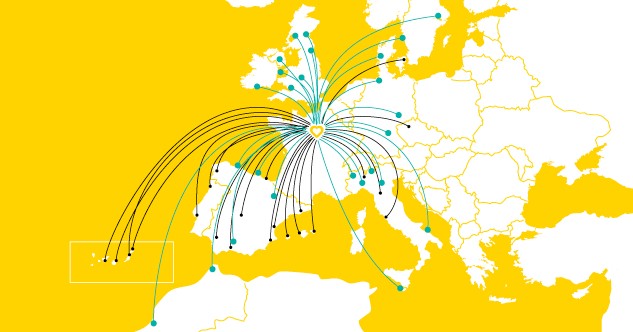 Cheap flights from Spain to Paris
As well as the existing 15 direct routes between Spain and Paris (Barcelona, Menorca, Majorca, Ibiza, Valencia, Alicante, Malaga, Seville, Madrid, Bilbao, Santiago, Gran Canaria, Tenerife, Lanzarote and Fuerteventura), now there are five new ones:
Cheap flights from Germany to Paris
For the first time, Vueling is connecting Paris and Germany with three new routes: Hamburg, Leipzig and Nuremberg.
Cheap flights from Italy to Paris
Up until now, there were three routes to Paris from Italy: Rome (Fiumucino), Florence and Milan (Malpensa). Four new routes have now been added:
Cheap flights from UK to Paris
In the UK, Vueling used to fly to Paris only from London (Gatwick). But five new direct routes have been added now, flying from other UK airports:
Other cheap flights to Paris
As well as all the cities mentioned above, Vueling now also flies to Paris from these cities (some of them for the first time ever):