If you're travelling to Central Europe in December, beware! You might come across Krampus, a scary character that doesn't usually appear in traditional Christmas stories. Instead of bringing presents he comes to make sure children behave.
We hear a lot about Santa Claus, who brings Christmas presents to children in his sleigh, but even good old Santa Claus sometimes needs to resort to darker methods to get children to be good. And that's where Krampus comes in – the other character in the legend who not everyone knows about. Have you heard of him?
WARNING: Before we start, we must warn you that this story is not for the faint-hearted, but if on the other hand you're not really into sickly-sweet Christmas stories, you'll love this one!
Legend has it that Krampus is a large, hairy creature, half-goat half-demon, who wakes up from his sleep every year just before Christmas. He has been seeing wandering about Central Europe, specifically Munich (you can't miss him at the Krampus Run), Salzburg and Innsbruck. On the evening of 5 December, when Santa Claus arrives (or Saint Nicholas, or Father Christmas, whatever you prefer to call him), he roams the streets looking for children who have misbehaved. On these dark and cold nights some say they have seen him sneak into houses to grab children who are on his black list with his claws. He then puts them in the basket he carries on his back and takes them to his den (or to hell, no one actually knows for sure), but in any case his message is clear: be good if you don't want him to pay you a visit!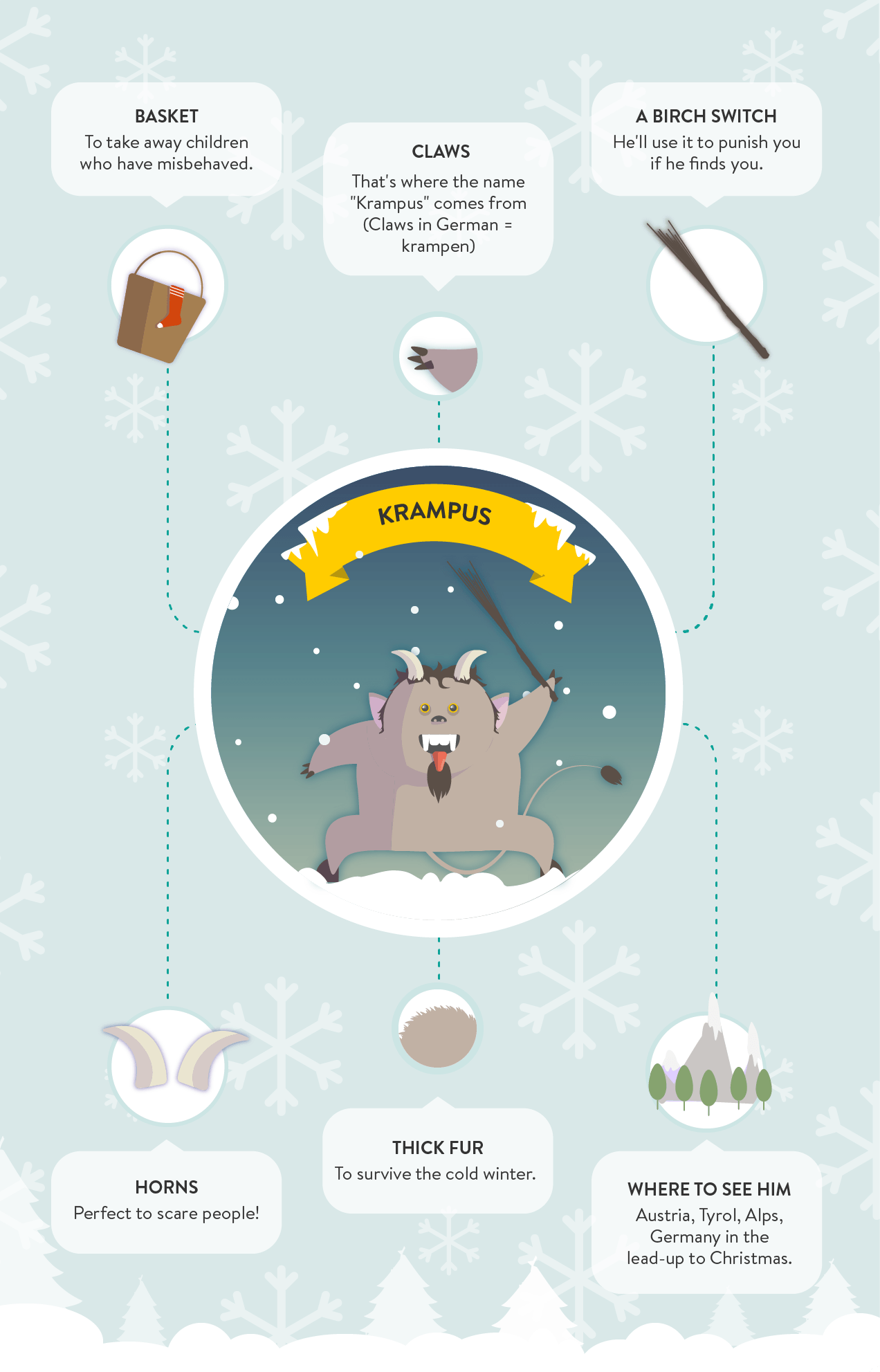 Remember that if you're planning to visit Central Europe this time of year, you must be careful and run away if you hear the sound of hooves! Other traditions, like bringing naughty children coal, seem a bit tame compared to this terrible beast, don't they?