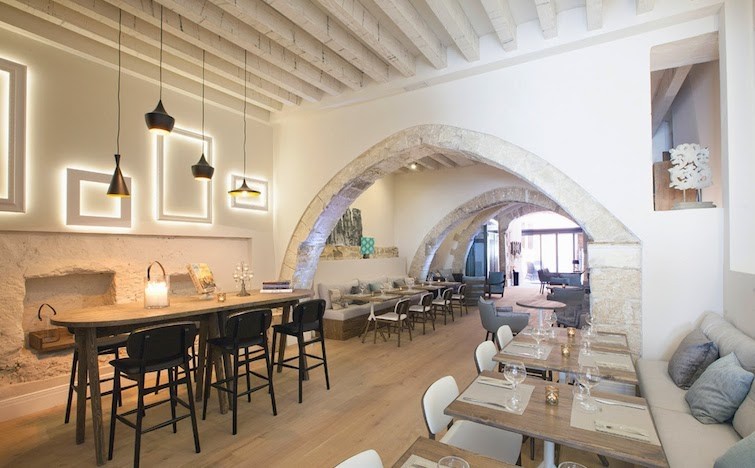 Fine Design In Palma
Majorca is one of the pearls of the Mediterranean. Over the years, the island has drawn from its traditional resources to reinvent itself in line with current trends. No wonder, then, that it is one of Spain's design meccas. This is where the Camper footwear brand was born, and the painter, Miquel Barceló, too. It was also the destination of such artists as Joan Miró and the pianist, Frédéric Chopin. This thirst for creation and good taste has led its capital, Palma, to build up a bountiful network of shops, restaurants, bars and hotels which can wreak havoc on the unsuspecting design lover. From the old town to the grass-roots quarter of Santa Catalina, from the classical to the most genuine vintage, one things emerges clearly – Palma is design.
1. In Progress
In the heart of Santa Catalina lies the store run by Sonia and Jesús, two enfants terribles of vintage who specialise in artefacts from the fifties to the eighties. Here you will find anything from chairs and lamps to Pontesa crockery, Arcoroc glasses and old Palma shop counters. With special emphasis on "Made in Spain", on many a Saturday they organise aperitif concerts and exhibitions by local artists.
2. Rialto Living
As soon as you set foot in Rialto Living you will feel as though you're in the chic venues of Capri or the Hamptons. This "living store" is housed in an old palace in the city's historic centre and its offerings range from furniture and art to books, fashion and a restaurant. Old and modern mingle in the ambience, with that Mediterranean flourish we are so fond of.
3. Frida Watson
Seen from the shop window, items in the Frida Watson collection confirm love at first sight. This store in Santa Catalina features pure Scandinavian design from the fifties to the seventies in harmony with Vitra clocks, Murano glass and retro lamps that resemble flying saucers.
4. Hotel Cort
The work of interior designer, Lázaro Rosa-Violán, Hotel Cort is one of the most elegant in town. Perfect lighting, hydraulic flooring and island colours compound a blend of elements that can make your head swim. Further, the sophisticated hotel restaurant is the ideal spot for a quiet dinner with your partner.
5. La Pecera
Few places can reconcile mid-20th-century European furniture with vintage and contemporary Majorcan items so deftly. La Pecera is a small but alluring store where you can find lamps, designer furniture, decorative items and craftwork. C/ Victoria, 4
6. Ariela Schönberg Vintage Collective
German furniture is one of Ariela Schönberg's fortes. This, one of the latest shops to open in Santa Catalina, features designer artefacts and anonymous furniture from the whole continent.
7. Posada Terra Santa
Despite its rather solemn name, the Posada Terra Santa (Holy Land Inn) is one of the loveliest hotels in Palma. Housed in a 16th-century palace, its 26 rooms display a blend of history and modernity with comfort. Additionally, their swimming pool, with views of the Cathedral, is the perfect spot for chilling out and letting yourself get drawn in by the city's charm.
8. Sa Costa
Sa Costa is a classic in Palma. Their antiques show wonderfully next to vintage formica, plastic and iron. As soon as you enter the shop, you realise you could spend hours admiring the dozens of furniture pieces and other items that people this store in the city centre. Costa de Sa Pols, 7A
9. Patrón Lunares
The classic essence of the Mediterranean arrives in Palma, skippered by the Patrón Lunares tavern and their chef, Javier Bonet. A pretty venue decorated with hydraulic floor tiles, iron columns and retro furniture where you can eat good seafood and enjoy the island's flavours.
10. Galería Veintinueve
Now in their recently opened new premises, Galería Veintinueve continues to be a hit, with their dual facet of contemporary art exhibition centre and venue for large 20th-century pieces by such designers as Jacobsen, Scarpa and Colombo. The store and patio are spectacular and the collection of art and furniture will leave you impressed.
11.  Viveca
Antiquities, ceramics, textiles and lots of vintage – this is the essence of Viveca Palma, where Íñigo Güell and Ingrid Iturralde have unveiled a store featuring 18th-century Swedish furniture and iconic 20th-century furniture. A real pleasure.
12. Louis 21
Upcoming artists jostle to exhibit their creations in Louis 21, one of the leading springboards for promoting the careers of emerging artists. With another gallery in Madrid, their philosophy is to elicit interaction with the public and the collaborative urge.
Come in search of fine design in the Balearic capital – check out your Vueling here.
Text by Aleix Palau for Los Viajes de ISABELYLUIS
Images by Aleix Palau
more info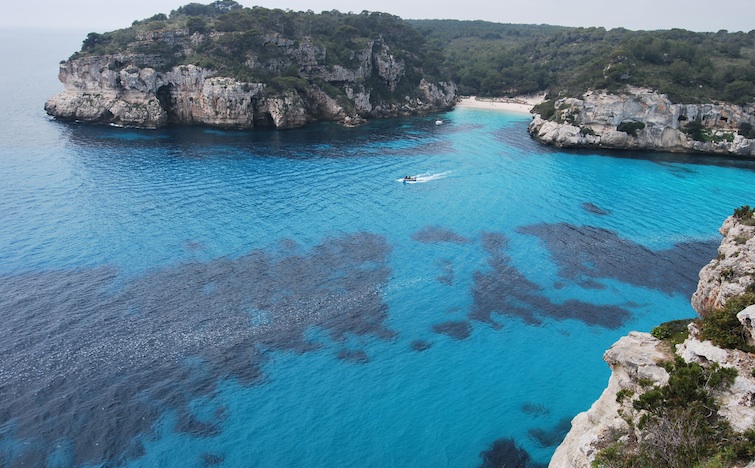 The South of Minorca at a Leisurely Pace
Minorca is one of the most fascinating islands in the Mediterranean. Its peculiar geological structure makes it an exceptional enclave. It also supports numerous endemic species; that is, species exclusive to the island, or else shared only by neighbouring islands such as Majorca, Corsica or Sardinia. The blend of both common and differentiating traits endows this land with an especially attractive natural heritage, which saw intense human development as far back as 4,000 years ago. Indeed, it was the first of the Balearic islands to be inhabited. Its earliest settlers came not from the Iberian peninsula but from other parts of the Mediterranean, including Phoenicians, Romans, Carthaginians and, later, Turks.
When it comes to slow tourism, three distinct parts of the island can be identified – the east, west and south. As the possibilities are endless, we are going to focus on the south and, in particular, the south-west of the island, centred around Cala Galdana as the main hub.
Beaches to Levitate on
Cala Galdana is also known as Cala Santa Galdana or Cala Santagaldana. It lies seven kilometres from Ferreries, between Morro de Ponent and Penyal Vermell, and alongside the development of the same name, flanked by the vantage points of des Riu and sa Punta which afford excellent panoramas. The place-name derives from the Arabic Guad al-Ana. This beach is one of the best known and most popular destinations in Minorca, as well as one of the most beautiful. It constitutes an isolated tourist resort surrounded by large swathes of practically virgin natural terrain. It is sited at a point on the coastline where two streams, the Algendar and the Algendaret, meet the sea where the latter forms an inlet, giving rise to a wetland, fitted with a jetty, featuring a wealth of animal and birdlife, notably peregrine falcons, frogs, toads, shrews and bats.
Cala Galdana offers countless options for relaxing, geared to all types of visitors. Minorca is well-known for being an ideal destination for vacationing families, as well as for those seeking solitude on a tranquil island, and children do not always fit the ambience of peace and quiet. Hence the existence of "adult hotels", like the Hotel Audax. We tried it out and were treated to an experience of total relaxation, spa and library included. The hotel also offers wholesome food in its restaurants: Oliva, a gastronomic space with live cooking, a fusion of the best of Italian pasta dishes with Minorcan cuisine, and Galdana – slow cooking. In addition, there they manage all kinds of activities for you through Sports & Nature. Mateo, who is in charge of these services, is an enthusiast of nature activities and knows the island like the back of his hand.
Western Beaches
If we opt to do the western beaches, just a half-an-hour's walk from there takes us to Cala Macarelleta. It is advisable to go there off season, which peaks from 15 June to 15 September, as it can be jam-packed during the high season. Spring is the best time to enjoy it. It breathes a special atmosphere, especially when fairly deserted. The route to this cove runs along the Camí de Cavalls, which skirts the whole island perimeter and is 184 km long. In bygone times, its function was to connect the island's various defence towers. The Macarelleta cove is accessed via a timber staircase with 216 steps, spanning a drop of 150 metres. The walk is well worth doing as this is certainly the island's most widely photographed cove. Its waters combine shades of blue, green and turquoise, while on land the chromatic scale ranges from greens to browns. If you head about two and a half kilometres further afield you come to Cala en Turqueta, a cove set in a stunning landscape. And, if you want to continue enjoying this pleasant walk along the Camí de Cavalls, you will reach Cala des Talaier (some 7 km from Cala Galdana) and Son Saura (at the 10-km mark). In addition to this coastal path, there are also trails winding their way inland along the island's various gullies. Minorca has three rivers and their gulleys stay green all year around. If you can, it is worth going on a hike to d'Algendar to visit its caves.
Sea and Tranquility
Another way of finding peace and quiet is to enjoy the toing-and-froing of the waves on a boat. You can hire one, which is a good way of interacting with the island's inhabitants, or take a ride on a pleasure boat. One of the best experiences, however, is to go kayaking, which you can do alone or with a guide. We recommend the latter option, as it has the advantage that you also get descriptions and recommendations. One of the most popular pursuits here is to witness the sun setting in the open sea. This is always best done in summer, although in winter it is also feasible, as long as you don a wetsuit.
Minorca offers a good variety of options for enjoying a holiday at a slow pace. Check out our flights here.
Text and images by ISABELYLUIS Comunicación
more info