4 Unusual Sights To See Near Leeds
A getaway to Leeds is the perfect excuse to do two diametrically opposite things. First, you should take the chance to do some quality shopping, as the city boasts an abundance of shopping centres, markets and pedestrian precincts packed with stores – a pleasurable exercise in which we put the credit on our card to the test. In contrast, you can also make the most out of your trip by exploring some of the jewels that lie in the Yorkshire and the Humber region, which is where cosmopolitan Leeds is situated. In the following we propose four outings to destinations less than two hours from the city where you will discover just how special and manifold is this beautiful area in the north of England.
1. Saltaire – In Search of the Region's Industrial Legacy
Our first stop is Shipley, situated in the Bradford metropolitan district. Here we find the Saltaire model industrial village, a jewel from the Victorian era which was designated a UNESCO World Heritage Site in 2001. Strategically located next to the river Aire and the Leeds and Liverpool Canal, it was founded in 1853 by Sir Titus Salt, a philanthropist and entrepreneur of the Yorkshire wool industry – wool was the region's major driving force during the Industrial Revolution.
This model village was purpose-built to house both the wool mill and the living area for the workers and their families. It featured a number of different spaces, designed to meet the needs of the community: a hospital, school, library, recreational areas, a church, etc. This enabled the workers to live near their place of work and also provided them with better conditions than in the nearby city of Bradford.
Nowadays it operates as a leisure area in which most of the buildings have been restored and turned into shops, art galleries, restaurants and cafés, but it still conveys the idea of the region's important industrial past.
2. The Evocative Scenery ofWuthering Heightsin Haworth
The picturesque village of Haworth, situated some 36 kilometres west of Leeds, owes its fame above all to the Brontë sisters (Emily, Charlotte and Anne), who wrote their acclaimed novels right here. Most of the tourists who come here do so on account of one of their best known literary works, Wuthering Heights, penned by Emily Brontë, and to see for themselves the places depicted in the novel. Apart from having a walk through this peaceful setting, permanently marked by the curiosity of sightseers eager to capture snippets of fiction, we recommend hiking through the area and soaking up this unusual scenery which acted as the source of inspiration for what has become a veritable classic of English literature.
3. Outdoor Art
You're an art lover but you hate enclosed spaces – in that case the Yorkshire Sculpture Park is for you. Located half an hour from Leeds, in the grounds of Bretton Hall, stands this unusual "museum", where you can delight in their magnificent collection of modern and contemporary sculpture in an inimitable setting. Something to note – it boasts Europe's largest number of bronzes exhibited in the open-air by Henry Moore, the most international local artist in this region.
4. Castle Howard – A Movie Set
North of the historic fortified city of York, which is well worth stopping over in, stands this magnificent country house, as these rural palaces owned by the British aristocracy are known. Castle Howard was built between 1699 and 1712 for the Earl of Carlisle. While its exterior, designed by the architect, Sir John Vanbrugh, is an exquisite example of the English Baroque, its interior will not leave you unmoved either. There you can enjoy the incredible collection of paintings by the likes of Canaletto, Leandro Bassano, Titian, Annibale Carracci, Marco Ricci, Joshua Reynolds and Gainsborough, among others.
A visit to this priceless mansion, which has been the home of the Howard family for over 300 years and is open to the public, has the added value of having served as a cinema and television set. It was here that Stanley Kubrick's Barry Lyndon was filmed,as was Brideshead Revisited – both the successful 1981 series and the film from 2008, adaptations of the literary classic by Evelyn Waugh.
You simply must visit the region of Yorkshire and the Humber – book your Vueling to Leeds here!
Text by Los Viajes de ISABELYLUIS
Images by Tim Green, John Robinson, Nick, Michael D Beckwith, vagueonthehow, Karen Bryan
more info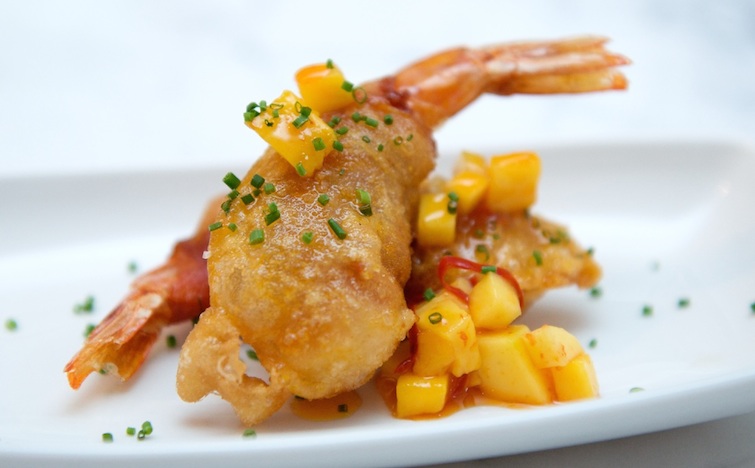 London Spanish Taste
World cuisines converge on London and Spain's contribution is no exception. The story goes back a long way, to when a handful of immigrant chefs turned up with the intention of staying. That was just the beginning. Nowadays, Spanish cuisine is well established there. In great establishments and in the guise of some great names. Iberian presa and paleta, chorizo and pollo al chilindrón no longer require translation. Similarly, no introduction is required for such names as Juan Mari Arzak, Nacho Manzano, Eneko Atxa or Dabiz Muñoz. Not even Albert Adrià or the Roca brothers, even though their ventures in London have thus far proved fleeting – the former, in the Café Royal and the latter, on the first stop of their forthcoming tour. The present offers bites worthy of nostalgia-free refuge, while the future promises to be equally appetising.
Starred. Ametsa, managed by Juan Mari and Elena Arzak, is the first Spanish restaurant to be awarded a Michelin star in London, and just a few months after opening at that. They offer creative cuisine of Basque origin, in the form of a tapa with tea at four o'clock, as well as lunch for just a few pounds featuring a tasting menu with an immaculate parade of dishes. Their wine list shows special sensibilities for wines with soul and Spanish varieties.
With a "barra" (bar counter). Between Nieves Barragán's different Barrafina – where there's always a queue to try their regional Spanish tapas – and Donostia, with their pintxos and other nods to the finest Basque cuisine, you will be hard put to choose where to nibble on tasties at a reasonable price. However, if your thing is grills, go for Lurra.
With a history. Boasting four venues in London, and others still to come, Nacho Manzano's Ibérica restaurants showcase the pull and the consistency of traditional Spanish cooking. Produce with designation of origin, generous helpings and an all-enveloping interior design are key to the success of a label which reaches as far afield as Manchester and Leeds.
Venerable. Boasting a team of chefs trained by the great names in Spanish haute cuisine, Alquimia is a must-visit restaurant for tasting fine rice in London. All of them, including the paellas, are served in portions for two, and there is also an assortment of other dishes on the menu.
Classy. There are very few places where cocktail culture carries as much weight as in London. Hence, Javier de las Muelas and his signature cocktails just had to set up in that city. Dry Martini London, at the Meliá White House - London, boasts an admirable nursery of mixologists who even create themed cocktails in the adjoining experimental kitchen.
In addition to these proposals, keep a look out for the long-awaited opening of the London StreetXo, while the restaurant Eneko Atxa is due to unveil in the One Aldwych Hotel in Convent Garden.
Overnights:
The Halkin By COMO. This hotel is synonymous with authenticity and distinction. Surrounded by embassies, with a siting as tranquil as it is near to the shopping bustle around Harrod's, this hotel has spacious, sought-after rooms. Their luxury amenities and à la carte breakfast are also among their fortes.
IGH London Park Lane. If you want to sleep like a king, what better than to lodge in this former royal residence a stone's throw away from Hyde Park? Their bar, restaurant and rooms have enviable views and noteworthy floral arrangements.
Meliã White House. Close to Soho and to major tourist attractions, the architecture of this hotel is an inducement on its own. The renovated rooms and the access to The Level Floor will enliven your stay all the more.
Text by Belén Parra of Gastronomistas
Images courtesy of the establishments
more info