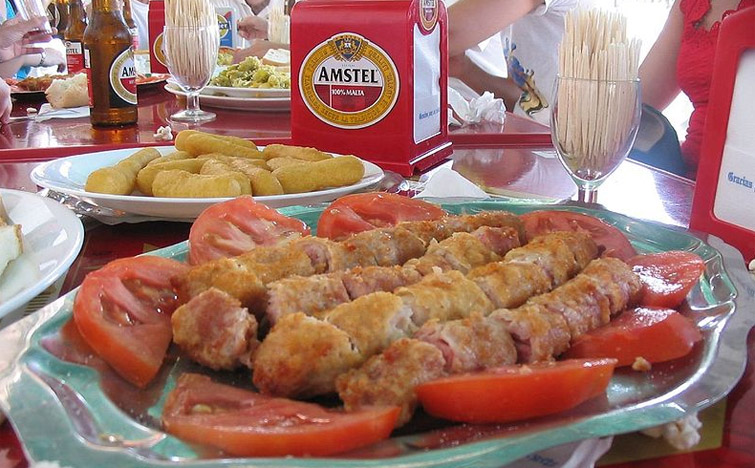 Enjoying tapas in Granada
Many comments have been made following the post we created on 21 June entitled Enjoying tapas in Granada 
on the Facebook page of Vueling People. You have suggested various places and other cities besides Granada for enjoying tapas in style so we thought it would be a good idea to gather all this information and try to create a tapas trail around Granada for Vueling People. Without further ado, here is the first trail you have created with your comments. More will surely follow. Your contributions are always welcome and we will try to publish them on myvuelingcity.com; the website for discovering the well-kept secrets of Vuelingdestinations.
Ardilla Feliz has suggested Borsalino of Granada. In Borsalino, they give you a free tapa when you order a bottle of beer – standard practice throughout Granada. Very close to the bus station, the residents of Borsalino (the name given to the patrons of this bar) remember this place for the quality of its tapas and the friendly welcome from its owners.
Eli Moreno added more information about Granada by suggesting the La Chana district for enjoying some great tapas at D'cuadros, Doña Rosquita and Torcuato. Besides a great variety of exquisite tapas, Casa Torcuato boasts spectacular views of the city from its location in the heart of the Albaicín district. It is always full but you never have to wait long to get served and, as is customary, you get a free tapa when you order a beer. Better not to let the alcohol go to your head from an empty stomach!
RM López Rodríguez has suggested the Velilla Cafetería Celeste and Los Diamantes. Los Diamantes is another of those bars packed with people but where they offer some amazing 'pescaíto frito' or 'fried fish'. Located on Calle Navas, it is a classic among tapas-lovers in Granada and one of the establishments with the longest history behind it. This is corroborated by Cristina Jimenez, who also says that "for some tapas in great surroundings, the Albaicin district (Plaza La Larga, Plaza de San Nicolás, Torcuato, Mascarones…) and the city centre has millions of places with good Spanish ham and good wines, like Casa de Enrique "the Elephant" next to the cathedral…". Casa Enrique is at first-sight a rather humble bar but is known by everyone for having some very good cold meats, including Spanish ham.
Cunini is another of the famous places suggested to us by Esther Arribas. It can also be found in the historic city centre, close to the Cathedral, and features an excellent offer of fish and shellfish. Just like most places in Granada, it is usually full and hard to get a table – but if you do, your stomach will certainly thank you for it!
Still in the centre of Granada, Antonio S. Zayas recommends the Bodegas Castañeda in the area near Calle Elvira. Many people rate its tapas and cold meats among the best in Granada but absolutely everyone agrees on the quality of its wines, some of which are home-made such as the "castañeda" and the "calisacas" not to mention its vermouth.
Africa Alemán sends us to the bars in Plaza del Aguaor and Begoña Benito says we really shouldn't miss La Bella y La Bestia or El Reventaero in Granada, on Camino de Ronda. "Reventaero" means "bursting in Spanish and with such an abundance of tapas it is easy to see why.
Both Consuelo Martos and Anna Calero point us in the direction of the Bullring where we can find La Ermita; a restaurant with a fine selection of reasonably-priced tapas and good Spanish ham, just as it should be.
We will conclude this Vueling People tapas trail around Granada with the recommendation made byManuel Bega to discover the bars of Gran Vía in Granada and to explore other town in the province of Granada, such as Motril.
Continuing with tapas theme, more Vueling People users have suggested other places like Calle Laurel in Logroño – one of the suggestions made by Fátima Cabañas and Pilar Darder. Others, such as Cristina Prat and Yorkin Beriguete recommend we visit the old part of Bilbao and particularly the unique Victor Montes – first-class tapas in northern Spain.
Many of you have suggested various places throughout Spain, such as Zaragoza, Almeria, Leon (particularly, el Húmedo), Barcelona (Ca l'Arturet in Castelldefels), Avila, Seville (el Eslava is apparently unmissable) and Linares.
Ramón Torregrossa reminds Shiro Takiki of a great place for tapas in Madrid called Bar Scrum at 7 Calle del Sol and Vicent Stronger recommends the Viña district of Cadiz.
We will soon be bringing you another Vueling People tapas trail around another one of our destinations. Thanks to everyone for your suggestions. Catch you later and bon appétit!
Makes you want to go, right? Do it! Check out our prices here!

 
more info