The big boy of the Balearic Islands is packed with nature, landscapes, culture and cuisine, and it's capital, Palma, is well worth a couple of days. We've come up with a few suggestions for things to do in and around Palma on your next visit.
A trip to the Serra de Tramuntana
A short drive from Palma, this mountain range forms the backbone of northwest Mallorca. Its beauty has earned it UNESCO World Heritage status and no trip to the island would be complete without a visit. If you like hiking, it's well worth investigating routes to explore the Serra de Tramuntana on foot. However, if you'd rather experience it without burning more calories than it takes to turn the wheel and work the clutch, we recommend taking the main road that crosses the range. It's winding and at times very narrow, but manageable for all but the most inexperienced of learner drivers. It's worth the effort not only to enjoy one of Mallorca's most beautiful landscapes but also for the reward awaiting you at the end: Sa Calobra, an impressive ensemble of two pebbly beaches flanked by sheer cliffs and divided by the Torrent de Pareis gorge.
Chopin's Valldemossa and coca de patata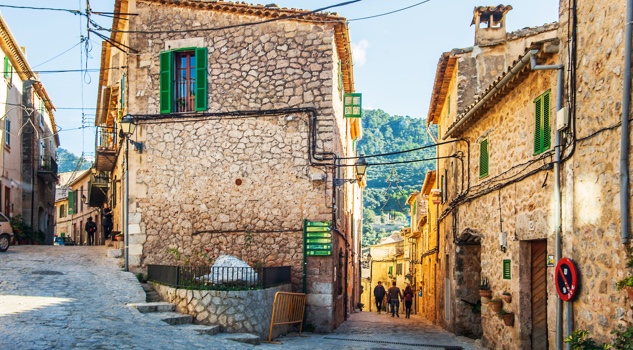 Just half an hour's drive from Palma lies the pretty little town of Valldemossa. Stroll through its narrow cobbled streets and admire the flowers and plants that lend a dash of colour to the facades and doorways of its houses. You can also learn more about the time Polish composer Frédéric Chopin and the writer George Sand spent on the island between 1838 and 1839. Paris' then-most-famous couple stayed a few months in Valldemossa's Carthusian monastery with Sand's children. However, it seems their time in this Serra de Tramuntana town wasn't always easy. The villagers didn't approve of an unmarried couple living in a sacred place and looked down on George Sand for smoking and wearing trousers. Even so, the quiet and isolated life led by the two artists did bear fruits: Chopin finished some of his works and composed two more. Meanwhile, Sand concentrated on her novel Spiridion and found inspiration for A Winter in Mallorca which details her impressions of the landscape and the character of Valldemossa's residents.
It isn't known whether cocas de patata (potato-based cakes) were made in Mallorca in those days. If they were, Chopin and Sand would certainly have been addicted to this light soft and sweet bun typical of these parts. You can find them in any of the town's cake shops or cafes and it's worth a trip to Valldemossa just to try one!
Party-hopping
The arrival of summer means festival season in Mallorca. Held on numerous weekends throughout the summer months, these usually feature an evening of concerts and dancing livened up by a DJ. The festivals draw people from all over the island and are the perfect way to enjoy the arrival of the summer solstice in the company of the locals. There's any number of festivals in the area around Palma so check out the festival calendar. You'll see there's no shortage of opportunities to party and feel like you're one of the islanders!
Taste Mallorcan cuisine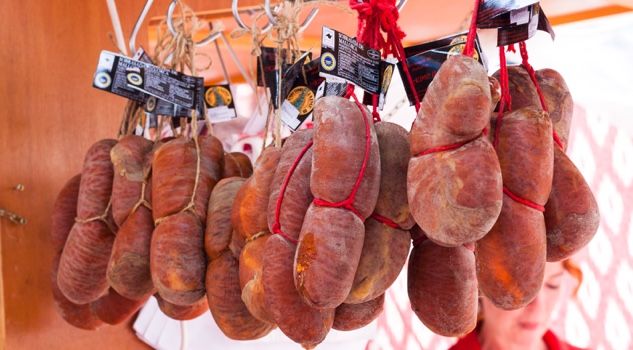 Any Mallorquin will tell you when it comes to food their island is the tastiest of them all. It would be a sin to leave without trying ensaimada pastries, cured sobrasada sausage, cocarroi empanadas, frit mallorquí (a dish of fried meat and vegetables), coca de trempó (Mediterranean flatbread), tongue with capers or Mallorcan soups… An iconic island location where you can try many of these dishes is Celler de Can Marron in Inca. Enjoy good solid local fare at this no-frills but totally authentic restaurant.
As for ensaimadas, you should be able to pick up an excellent one at any bakery or cake shop. If not, stop by Ca'n Joan de s'Aigo, a Palma de Mallorca institution. Or head for Forn de Sant Francesc in Inca. This place is a real Instagram influencer thanks to its more than 300 thousand followers! As well as pretty photos, Joan Seguí (the heart and soul of this bakery) was awarded the 2017 prize for the world's best ensaimada.
Paddle around Sa Dragonera by kayak or paddleboard
Hopping into a kayak or onto a paddleboard is a novel way to burn off all the ensaimadas you'll have scoffed during your stay. And discover an island shrouded in mystery and legend at the same time. Explorers, pirates, bandits, smugglers and conquerors have all passed through here. To name just two, it was here on Sa Dragonera that James I the Conqueror planned his conquering attack on Mallorca. And here too that the pirate Redbeard set up headquarters to monitor maritime traffic between Barcelona and Mallorca.
In 1974, a developer bought the island to build a resort with 1,200 homes and a marina. However, thanks to a hard-fought campaign by ecologists, the Spanish National Court decreed the island could not be built on. The Council of Mallorca bought it in 1987 and in 1995 it was declared a Natural Park.
So there you have it, just a few original ideas for things to do near Palma de Mallorca when you take advantage of Vueling's deals to visit the Balearic Islands. And we haven't even mentioned a dip in its crystalline waters.. but then that goes without saying!